Beans
are one of the most versatile, and healthy foods to have in your Prepper Pantry. They are loaded with nutrients, full of fiber, and a great source of protein. Beans can be eaten fresh, or dried for later use. Make them into soups or stews, eat them as a side dish, mash them into patties or even bake beans into bread. They taste delicious.
There are two main types of beans. Beans with edible pods, like Green Beans and Wax Beans, and beans where you only eat the seeds, like Black Beans or Great Northern beans. While it is more customary to eat the edible pod beans fresh, cooked in soups or as a side dish, they can be canned, freeze dried, dehydrated or frozen. Dried beans can also be dried and stored for years, or canned.
Whether you have cans of beans or dried beans, you can be assured that if they are stored properly, they can last for years. Dried beans, if stored in a dark, moisture free environment, officially last 8 to 10 years, but can most likely be stored indefinitely. A can of beans can easily be stored for 2 years, and if you keep them in a cool dark place, you can count on 5+ years.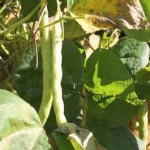 Growing your own beans is easy. Since they have different growing habits, bush or vine, you just have to pick the right type for your space. Start them indoors or outdoors, and harvest all summer long. Adding Bean seeds
to your prepper garden and your prepper pantry your can save your life.
For more information about growing beans organically check out this link How to Grow Beans