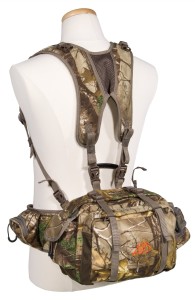 The average Bug Out Bag can easily weigh in at 30-40 pounds. To someone young and strong, this is a walk in the park (for the first few miles anyway), but for the weak or the elderly, a fully loaded Bug Out Bag is just not going to work. For those who cannot carry as much weight, we've tested a few alternatives.
The ALPs OutdoorZ Little Bear Hunting Fanny Pack got high marks from our testers. This lightweight "Fanny" pack makes it easy for almost anyone to carry the bare minimum and still stay mobile. Weight is distributed evenly around the padded waist, and across the removable padded shoulder straps. You get the stability and security of a full pack, without the bulk.
Inside the main pocket you find enough space to tuck protein bars, dried fruit or other foods. Separate areas in the main pouch keep other essentials, like wipes, an emergency blanket, and extra socks/underwear. A flat zipped area is perfect to tuck a few photos and basic medical records. Side pockets can hold fire starters, a knife or extra medications. There is also a mesh pocket to keep a water bottle for hydration, and a front pocket to hold a map and compass.
Because this pack was designed for hunters who wear gloves, the zippers have long pulls, which makes them easy to use for anyone with arthritic fingers. There are clips on the front for attaching a light or whistle. Compression straps on the top make it easy to bundle a sweater or poncho for easy access.
All in all, this could be the perfect bug out solution for anyone who can still move, but can't carry as much.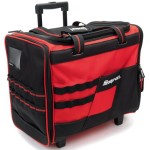 Another alternative for someone who can't handle a load on their back, but who still has some strength is a Rolling Tote bag like the Snap On Rolling Tool Bag. What we liked about the Rolling Tool Bag is its sturdy fabric and ease of use. This bag won't get torn or damaged easily, and it's waterproof. Sure, it's a little heavier than your standard shopping trolley, but this bag shouldn't fall apart when you it the first bump on a dirt road. (I just wish it wasn't BRIGHT RED).
The 18" bag is big enough to hold the basics without overloading. You can easily tuck in enough food and water for a few days, as well as a poncho or rain cover. Side pockets are great for tucking small essentials like fire starters, first aid, medications and maps. The rolling bag might not be our first choice, but as an alternative to carrying a pack, it will do the job. And if it gets to be too much for the person pulling it, someone else could lend a free hand.
When the time comes to Bug Out, not everyone will be able to pull the same amount of weight. Be realistic, and set things up so everyone can help as much as they are able.
[notice]This article is just one part of the puzzle, many more Prepper information articles and product reviews are available on the Back40 Blog. Learn about essential Prepper Supplies, gardening (survival seeds), stockpiling tools, the best goods for Barter, keeping your pantry up to date, and taking care of your family in an emergency. (Don't be overwhelmed…. let Back40 help you survive.)[/notice]
Related articles