Keeping your kids safe with an emergency survival kit for kids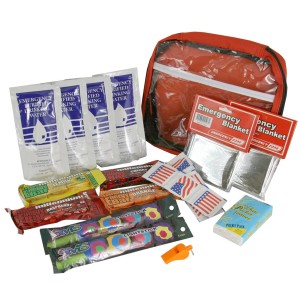 It's a fact of life; I can't spend every moment watching my kids. I really want my kids to have as "normal" a life as possible. To me, it's important that they learn to navigate the world, and all its dangers, when I'm not there. They have school, sports, and friends that invite them for sleepovers.
Their lives are relatively "normal".
Now, I'm not saying that I'm throwing a 10 year old to the wolves! I've spent their entire lives instilling values and beliefs that they take with them every time they walk out the door. They know who they are, and what is expected of them. They are strong.
They also take an Emergency Survival Kit.
My kids might be out of my sight, but they are not without resources. The standard Emergency Kit comes with food bars, water pouches, wet wipes, a whistle and a pair of Mylar blankets. Officially it's designed for two kids. (You can decide if you want to tell your child to share). It's enough to keep them going until I can get to them.
I did augment the standard kit a bit. I added a few small packs of dried fruit, for sweetness. A length of paracord went in, and each bag got a few light sticks in case of power out. For my youngest, I added a fabric square made from the same material as her bed quilt, to make her feel safe. A laminated card with all of our emergency information, including a photo went in too. Because the school has strident rules about knives and matches, I had to leave them out.
The kit is compact enough to fit in the small front pocket of their school backpack, or in the side pouch of a sports bag. Instead of moving them around, I bought a few for each child. Once it gets zipped into the bag, it is to be left alone! A big rule in our home is "Emergency Supplies are for EMERGENCIES only!" You don't need to show it off… you don't need to play with the whistle or the light sticks!
I can't be with me kids all day every day, but I feel a little better knowing that if something were to happen, my kids have tools to survive.
Related articles