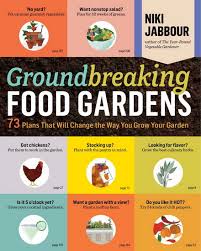 I've just discovered a fabulous new gardening book, "Groundbreaking Food Gardens: 73 Plans That Will Change the Way You Grow Your Garden" by Niki Jabbour. She and 72 other gardening experts lay out plans for different types of vegetable gardens. But it's more than just… put the carrots here and put the tomatoes there… each garden is completely different depending on what type of growing space you have, and what types of things you want to grow.
The gardening experts are all well known in their field. Whether it's urban farming or maximizing growing time in Alaska, all of them know their stuff. Each expert is given a section complete with a description of the garden, tips for maximizing success, a list of the best seeds and plants, and a layout to show where it all goes. You will find specialized garden plans for herb gardens, power food vegetable gardens, container gardens, and even gardens that incorporate chickens. And for the kids, there are kid friendly garden patches, and a wonderful garden plan to use at schools.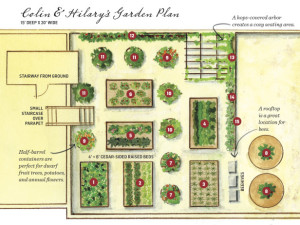 Some other gardens include-
Upcycled Edible Patio
Backyard Beekeeper's Garden
Founding Father's Garden
Beat the Grocery Bill Garden
Otto Pizza Garden
Urban Homestead
Modern Truck garden
Canner's Garden
Chicago Hot Dog Garden
And many more!
For the beginning gardener, you will find sections on gardening basics like soil mixtures and composting.
The book comes in paperback or as a Kindle edition. Since the illustrations are so charming, I prefer to have a copy of the book in my hands (the paperback edition, loaded with post-its, is on the coffee table in front of me now).
One thing I plan to do after reading through this lovely book is to add a few new garden plots to my existing vegetable garden. Along the edge of the yard there is a place to add a Paul Zammit's Raised Bed Pollinator garden (complete with bee watering station).
It doesn't matter if you live in the country, the city, or the suburbs… "Groundbreaking Food Gardens: 73 Plans That Will Change the Way You Grow Your Garden" by Niki Jabbour is certain to have the perfect garden plan for you.

Take a Look at some of Niki Jabbour's other books Too!

Groundbreaking Food Gardens