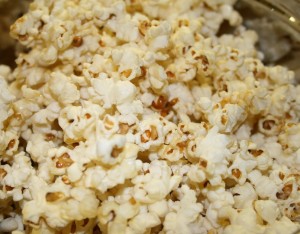 You don't need to go to the Fair to enjoy delicious Kettle Corn! If you have a Whirly Pop Popcorn Popper, you can be munching on Home made Kettlecorn in minutes!
Ingredients-
¼ cup Oil (some people like peanut oil, others claim coconut oil is the only way…vegetable oil works)
½ cup Popping Corn
¼ cup Granulated Sugar
1 tsp. Salt
Instructions-
Add the Oil and popping corn to the Whirly Popcorn Popper over medium heat. Have the sugar ready. Stir while the popcorn heats up. As soon as it starts to pop, pour the sugar into the popper, and continue stirring. Keep stirring until it stops popping.
Pour the sweetened popcorn out into a bowl… sprinkle some of the salt over it, stir it well…sprinkle the rest of the salt over it.
Eat.