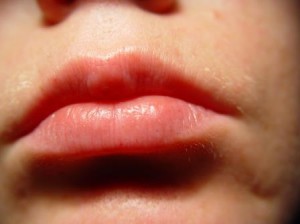 Since I spend so much time outside in all weather, I am always fighting chapped lips. While it's not a life threatening issue, chapped lips are irritating, and can be painful. Luckily they can be treated, and even prevented with natural remedies for chapped lips.
First of all… stop licking! Licking your lips is the worst thing you can do. If your lips are chapped, it's because they are dehydrated, licking them will dry them out more as the water evaporates.
Foods to Prevent Chapped Lips
One of the primary causes of chapped lips is a lack of fatty acids in your skin. Eating foods high in omega -3 fatty acids can help hydrate dry skin and lips. Try adding more fish like sardines or salmon to your diet. Maybe sprinkle flax seeds or chia seeds into your cereal. Most nuts are high in omega-3 fatty acids, and they make a healthy and filling snack mid- day.
B vitamins and iron also contribute to overall skin health. Be sure to include foods high in iron to your daily diet. Red meat and egg yolks are iron rich foods, while green leafy vegetables like spinach and kale contain both B vitamins and iron.
Chapped Lips Scrub
Chapped lips can be unsightly. However, a simple scrub made from items that you already have in your kitchen, can get rid of the dry, flaked skin, and leave your lips soft and moisturized.
Mix together 1 tsp. honey with 1 tsp. sugar. Rub on your lips for one minute, then rinse off. The sugar will "scrub" away the dead skin, while the honey will leave the lips moisturized. (And it tastes yummy too).
Make your Own Natural Lip Balm
Of course, the best prevention for chapped lips is using a lip balm with SPF. You don't need to buy petroleum based products, making your own lip balm is simple, and relatively inexpensive. Try this method from Purposefully Simple http://www.purposefullysimple.com/homemade-spf-30-lip-balm/ It uses cocoa butter, Coconut Oil, beeswax and Red Raspberry Seed oil, which is naturally rated at SPF 30-50.
Now, suppose it's an emergency situation… and you are without lip balm. (Maybe you didn't stick it in to your bug out bag). Use the finger oil method. … (yes, it's a little icky, just try it). Rub your finger against the side of your nose… then rub it against your lips. The oil from your skin will help keep the lips moisturized.
Granted, chapped lips are more an irritant than an emergency medical situation, but taking care of irritants before they can become major issues is an essential part of survival.
[notice]This article is just one part of the puzzle, many more Prepper information articles and product reviews are available on the Back40 Blog. Learn about essential Prepper Supplies, gardening (survival seeds), stockpiling tools, the best goods for Barter, keeping your pantry up to date, and taking care of your family in an emergency. (Don't be overwhelmed…. let Back40 help you survive.)[/notice]