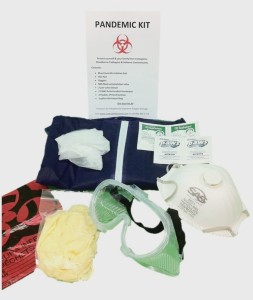 Sadly, trying to envision a world where a Pandemic Survival Kit is needed is no longer difficult. What do you do when diseases like Ebola or this new Respiratory Virus are in your neighborhood? Would you rather look foolish taking precautions? Or is it foolish to go out unprepared?
Everyone should have some Pandemic protection gear on hand. You want an N95 Breathing Mask (N95 indicates that it keeps out 95% of the particles 0.3 microns or larger. It has been cleared by the FDA for surgery, and should keep out the worst of the pathogens), gloves… either rubber or latex (unless you have an allergy), and goggles, to keep splatter or droplets out of your eyes.
The Pandemic QuickKits  from Contagion Survivor might just be the thing to keep in your car or home for emergency situations. It has what you absolutely need, and more.
What comes in the packet?
-Isolation coveralls that tape at the ankle and wrist
-2 pairs Gloves
-N95 Breathing Mask with Exhale Valve
-Goggles
-hair covering
-biohazard bag
-Hand Sanitizer
-Anti-Microbial Wipes
You get three individually wrapped kits with your order, which breaks down to around $10 per kit (plus shipping).  So, it's a fairly reasonable deal.
Yes, you can buy all of these things separately, and assemble the kits yourself. I've slowly been adding gloves, masks and goggles to our home stash. But this kit makes it dead easy. It's done for you, just pack one in the car, one in the BOB and one under the bathroom sink.
Remember, containment and prevention is the best way to keep these deadly viruses from spreading. Do your part to stay healthy. Invest in proper protection gear, stay out of crowds if possible, and use anti-bacterial wipes if you do have to touch things in public.
Keep yourself and your family healthy and safe, keep and use protective gear as needed.
Pandemic Survival Gear