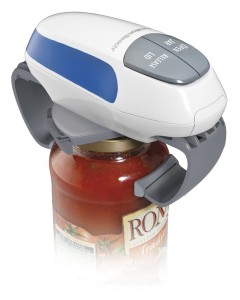 Creating a stocked pantry means storing food in cans and jars, sealed packets and buckets. Creating a tight seal means keeping your food fresh and ready to go when you need it.
Without power, you have to use manual tools, but manual tools require strength. What if you don't have the hand strength to use a can opener? What if opening a jar is too difficult? How can you pop the top on those cans or open those stubborn plastic seals?
If you are helping an elderly relative create a stockpile to "bug-in" during an emergency, don't forget to add a few of these helpful gadgets to help them get in to the food containers! There are a number of gadgets that are battery operated (don't forget to stock BATTERIES!), but there are also plenty of specially designed opening tools that anyone can use, even with limited hand strength.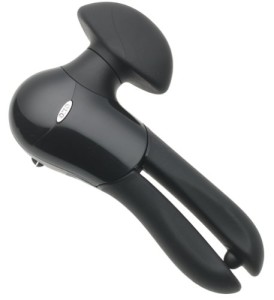 Can Opener– Those little army can openers are fantastic for your bug out bag, but they are too small and fiddly for anyone with stiff hands to use. The Oxo Company is known for its ergonomically comfortable designs. The Oxo Good Grips Smooth Edge Can Opener has a big easy to turn wheel, soft rubber handles, and a smooth mechanism.
Even better, the opener cuts the lid from the side of the can, and then you pop the lid off. This means there are no sharp lid edges. Better yet, you can close the can up again if you don't use all the contents!
Jar Opener– Opening a sealed jar can be frustrating for anyone, but it's impossible if you have arthritis or difficulty gripping. The Hamilton Open Ease Automatic Jar Opener makes opening any jar a snap. This little tool does require batteries, but it works like a dream. Just set the handle on a jar, press start, and arms will grip the sides of the jar and the sides of the lid. POP! It's open.
IF you are looking for a fully manual opener, try the Kuhn Rikon Gripper Opener. It has metal teeth that grip into the can lid. You do need to turn a handle, but it is large, and not too difficult.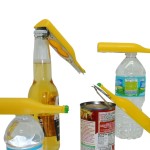 Pop Top and Bottle Opener– The Extreme Magic Opener might have a funny name, but it gets the job DONE. This fun yellow tool will easily open pop bottles and cans, any pop top cans or even those slippery water bottles. Just set the handle on the lid and twist or pull. The pop top end slides under the tabs so they can easily be lifted away. This handy gadget is the perfect size to slip into a bag or glove box, and be sure to keep one in your kitchen.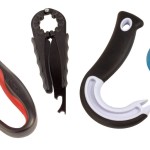 Multi Tools-The Jokari 4 piece helping Hands set opens bottles and easily pops up those pesky pop tabs…. But it also has a tool to open pill bottles. Also included is a knife sharpener. Is it worth getting? I think it could be fine as a secondary set in a bug out bag. The parts are small, and they work well… but maybe not as well as some of the other products.
Having a stockpile of food is only half the battle. If you can't open the cans or jars, your pantry might as well be empty. Make sure that the people in your life who have trouble with hand strength are prepared with these simple and efficient Kitchen devices.
[notice]This article is just one part of the puzzle, many more Prepper information articles and product reviews are available on the Back40 Blog. Learn about essential Prepper Supplies, gardening (survival seeds), stockpiling tools, the best goods for Barter, keeping your pantry up to date, and taking care of your family in an emergency. (Don't be overwhelmed…. let Back40 help you survive.)[/notice]