Food- How to Preserve, and USE a Food Stockpile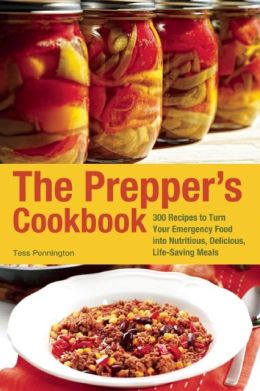 "The Prepper's Cookbook: 300 Recipes to Turn Your Emergency Food into Nutritious, Delicious, Life-Saving Meals"   by Tess Pennington
If you are new to Prepping and are looking for a complete guide to stockpiling, preserving and cooking food, the Prepper's Cookbook by Tess Pennington is right for you. The recipes are basic and good, and make great use of a Prepper Pantry. Included are recipes for filling breakfasts, easy nourishing lunches, and straightforward delicious dinners that your whole family will enjoy. The recipes make use of canned or dried ingredients, such as canned chicken, dehydrated parsley, and all sorts of beans and grains. You will also find recipes that make great use of your garden.
Beyond recipes for meals, you will find recipes for spice and seasoning mixes. I love that there are recipes for Plum Sauce and Taco Seasoning! This means I don't have to worry about going to the store for these delicious basics.
However, this is more than just a mere cookbook. Tess Pennington teaches the basics of canning and preserving. Her instructions are clear, and easy to follow. There are charts detailing times for each type of fruit or vegetables. It's clear that she had to learn to do this herself, and uses her successes and failures to teach others. Included are recipes for jellies and jams, a great use for fruit, and a sweet treat for your breakfast table. There is even a recipe for homemade pectin! You will also learn how to dehydrate foods, and how to make beef jerky and juice.
The book starts with the very basics of food stockpiling. How do you know how much you need? Turns out, there are calculations for that. Making an inventory list is vital.  Knowing your family's tastes and preferences is important. Understanding how much water you require is lifesaving. Organization is the key.
My concerns about this book are that the recipes are a bit basic, and some won't work in an off-the-grid situation. In a long term emergency, will you still have sour cream? Could you simmer a pot of soup for hours? Other accommodations like a Wonderbag or Solar Oven might have to be used. That said, The Prepper's Cookbook does make a great jumping off place for new Preppers, and might even have some new tricks for old Preppers.
The Prepper's Cookbook covers most everything you need to know about keeping yourself or your family fed in an emergency. Food is more than just putting calories in your mouth. Eating energy bars for days on end will bring anyone down. Knowing that you can feed yourself and the people you love delicious, filling and familiar foods will make any emergency easier to bear.
The Prepper's Cookbook: 300 Recipes to Turn Your Emergency Food into Nutritious, Delicious, Life-Saving Meals
Related articles