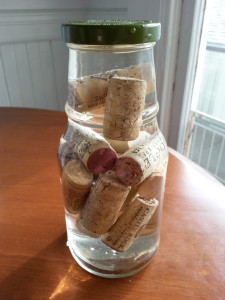 Love this simple fire starting trick!
Save the corks from any bottle of wine that you have finished enjoying. Make sure they are REAL CORKS (not the synthetic ones, or the screw tops… the ones made from actual cork).
Save the corks in a jar filled with rubbing alcohol. Keep the lid on tight. (Don't store near the fireplace or stove).
When you are ready to start a fire, put couple of corks under the kindling and light it up. Your fire will blaze in no time.
Start A Fire With Corks
[notice]This article is just one part of the puzzle, many more Prepper information articles and product reviews are available on the Back40 Blog. Learn about essential Prepper Supplies, gardening (survival seeds), stockpiling tools, the best goods for Barter, keeping your pantry up to date, and taking care of your family in an emergency. (Don't be overwhelmed…. let Back40 help you survive.)[/notice]