Thank you for checking into our special End of the Summer offer on our Essential Seed Kit that we offer for Preppers and Homesteaders. This special collection of high quality vegetable seeds will grow a large garden for you and your family in times of need.   25% Off till the end of August!
How To Redeem…
It's simple. I'm going to give you a link to our Amazon listing below as well as a promotional code that you will have to apply at checkout.
When you first go to our Amazon listing, it will look like this:

Notice how the price is $39.00? That's okay. Just click the add to cart button, which we circled in the image above. This will then take you through to the checkout where you can apply the promotional code which you'll see below: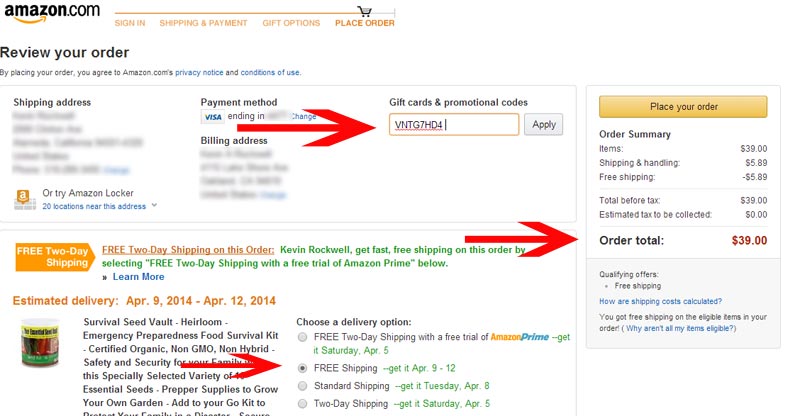 Once you put in the promotional code, then click apply, you'll notice the order total will be updated to reflect the discount. Just be sure to select the free shipping option at the bottom as indicated by the arrow
What To Do Next…
Step 1: use this promotional code on checkout:  KEWA6NB6
Step 2: Go to Amazon and buy this product and apply the promotional code above on checkout to get it for FREE. Here is the link to the product: http://www.amazon.com/survivalseedvault
Step 3: Be sure and select Free shipping from the shipping options selection so the whole order is free to you.
Thanks from all of us at Back40