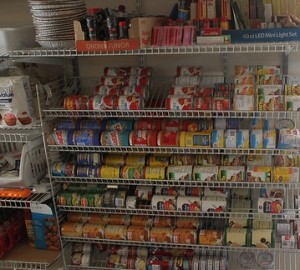 Keeping your Pantry Organized is incredibly important. The best designs will allow you to see at a glance what you have so you don't keep buying what's already there. There is a running joke in my family about tomato paste. Every week for a month, I would buy tomato paste. Why? Because when I bought it, I would put it away out of sight, and then forget I had it, so I would buy it again.
Of course, you also want to be able to rotate your foods easily, since canned goods do expire. A system that allows you to put the newer purchases in the back, so you can use the items in the front is best for this.
Setting up a pantry for all of your essentials, food, water, and emergency supplies like survival seeds does not have to be elaborate or expensive. Every home is different, and everyone has different space allocated to storage. It's up to you to find what works best in your world. Here are a few simple ideas that you can use for inspiration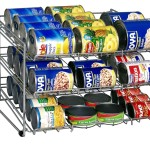 I stumbled across this photo a few days ago. This pantry was put together simply, using Closet Maid Close Mesh shelving that can be found at your local Home Store…. but the shelves were flipped upside down! Simple, easy to install, and the shelves can be moved up or down along the brackets as needed. Plus, they can easily be cut to size. Take out the front can, and the rest roll into place. The other shelves are strong enough to hold all of your other items.
If you are looking for small racks to slide into existing shelves, these can racks will slide right in to your pantry. They hold cans up to 15 oz., but that covers the basics beans, soups and tuna fish.
But my favorite is a DIY system created by RWCrone. He re purposed an old cabinet to make the perfect can rotating system. Looks like I have a great project for my HoneyDo list!!!
Can Rotation Shelves Video
Don't let your prepper pantry get out of control. Keep things organized with a set of canned rotation shelves! The time and effort you spend will be returned to you in the for form of less waste, and less time spent searching for things you can't find!
[important]
Can Rotation Shelves
 ClosetMaid 48-by-12 Inch Wire Closet Shelf, White #1341

Small can rack – Organize It All Can Rack (1866W)
[/important]