Wonderbag – Cooking without Power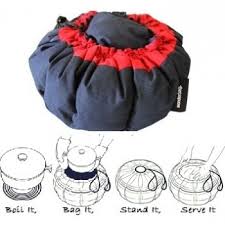 I have to admit, I was skeptical when I first saw the Wonderbag. It looks like a bean bag chair for the pre-school set. How could it possibly cook a meal? But it turns out that this puffy bag can take the place of a long term cooker. This means using less of your fuel resources to prepare warm and satisfying meals for your family.
How does it work? You begin by preparing your food in a pot that fits into the Wonderbag. Brown the meat, add the spices and flavorings, add any liquid, and then bring it all to a boil. Once the food has boiled for a few minutes, simply remove it from the heat source, and tuck it into the bag on a trivet. There is a padded piece that sets on top of your pot, and the bag is closed up with a drawstring. 1 – 5 hours later, your food is ready, just like you cooked it in a slow cooker or Dutch Oven! Only, you didn't have to use any electricity or firewood.
Since the Wonderbag cooks the food safely, you don't need to worry about monitoring your meal. It won't burn or need more fuel. This frees up your time to take care of other important tasks, and as you know, there is ALWAYS something that needs to be done.
The Wonderbag was developed in South Africa so women could cook for their families without spending half of the day searching for firewood or polluting their air with kerosene smoke. Not only was this a revolution in food preparation, it also freed women up to spend more time with their families… teaching their children, or working home businesses to earn a living.
We use the Wonderbag as an easy cooking method in power out emergencies. I prepare the food using a camp stove, and once it's boiling, I can turn the stove off, and let my food finish in the Wonderbag. My husband also loves to take it along when he's tailgating. I prepare my Shredded Beef Brisket or 3 Baked Bean Casserole, and the food stays warm and delicious for hours in the bag. (He likes that it saves space on his grill). It's good for savory stews and soups as well as rib-sticking oatmeal breakfasts. I've heard some people have even tried baking in it! And because the bag is thoroughly insulated, it can be used to keep foods COLD. If your freezer goes out, you can put frozen items into the Wonderbag, where they will keep frozen for hours, much like a cooler. (My daughter also likes to use it as a pillow when she's reading…)
Any 2-9 quart pots with short handles and a lid will fit into the bag. You can even use it with your cast iron pots. The bag comes with a few recipes to try, so you can get used to using it. Different foods have different cooking times, so be sure to look at the chart before starting! A warm meal does wonders for morale in times of crisis. Consider adding a Wonderbag to your emergency stockpile.