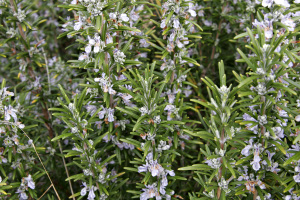 Here in California, Rosemary grows like a weed. You find in edging gardens or filling in spaces in public plantings. But, it is much more than an evergreen shrub that smells nice. Rosemary is a woody and fragrant herb useful for cooking and medicine. It's straightforward and easy to grow, and looks nice most of the year. They even grow little flowers is white, pink or blue. You can harvest the herb year round.
Uses for Rosemary
Rosemary has so many uses, both culinary and medicinal, it's practically a must for the garden. You can flavor meats with rosemary, or roast veggies and potatoes with sprigs of rosemary. It even acts as a cooking utensil…. strip the leaves off of the woody stems, and use them as shish kebab skewers! not only does it help the meat cook, it flavors the meat as it cooks.
In the Medicine Cabinet rosemary has a number of important uses. The latest medical news about this wonder herb is that it helps prevent memory loss… remember that saying, "Rosemary for Remembrance?"… it seems Shakespeare was on to something. Studies show that memory is increased just from SMELLING this herb.
But Rosemary does more. When it's heated, this herb releases  anti-oxidents that attack cancer cells (so when you are cooking with Rosemary, the herb releases something to prevent the damage from carcinogens caused by cooking meat!)
The everyday uses of Rosemary make it even more extraordinary. Rosemary oil can be used for digestive difficulties,  like stomach problems, flatuance, and liver and gall bladder issues. It also helps with blood flow, so it's good for menstrual cramps, as well as high blood pressure. Topically, the oil is used for toothache, skin issues like eczema, and even baldness.
Rosemary is a useful and beautiful herb that is the perfect addition to your Herbal Medicine Cabinet.
[notice]This article is just one part of the puzzle, many more Prepper information articles and product reviews are available on the Back40 Blog. Learn about essential Prepper Supplies, gardening (survival seeds), stockpiling tools, the best goods for Barter, keeping your pantry up to date, and taking care of your family in an emergency. (Don't be overwhelmed…. let Back40 help you survive.)[/notice]